Perry Park Amphitheater – Eagle Scout Project Complete!
In Oct 2107 Alex Lynch completed his Eagle Scout project at Perry Park.   The project involved building an amphitheater from limestone boulders on the side of the hill facing the new Perry Art Park.  Alex, along with volunteers from his troop, dug and built terraces into the side of the hill.  He worked with PARD to guide and lower the heavy boulders in place with heavy equipment.  He then spread grass seed over the site to revegetate the disturbed soil along with back filling the areas around the boulders with sandy loam.  The project involved months of planning along with fundraising. Funds were provided by a grant from the Austin Parks Foundation, as well as money he raised by selling mulch through his Scout Troop. 
Alex's project is beneficial as it gives park visitors a lovely place to sit when they come to look at the art sculpture, view the sunrise or stop for a while along their walk or bike ride.  It can also be used as an outdoor presentation area.
Many thanks go to Alex for all his hard work on this wonderful project!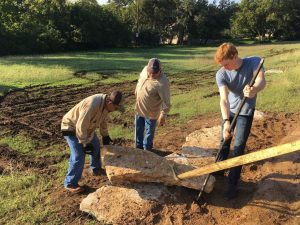 Alex inspecting the boulder placement.
The completed Perry Park Amphitheater.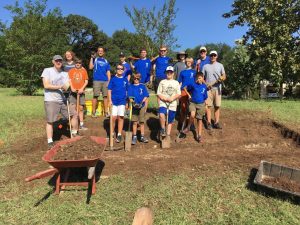 The Perry Park Amphitheater work crew.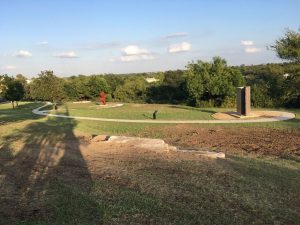 Perry Art Park and New Amphitheater.